Web Development
Does My Business Need a Website? – Your Online Storefront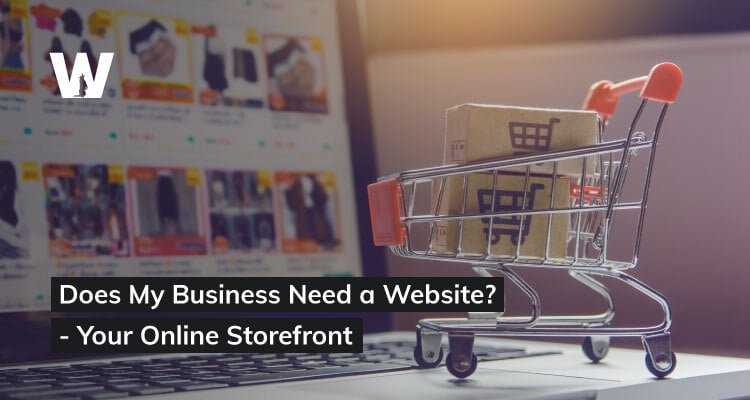 Despite the increasing popularity of online searches and the common practice of conducting research before buying, it's unfortunate that about one-third of businesses have chosen not to develop a website, firmly believing it isn't a necessity.
While personal touchpoints and other offline marketing methods create meaningful connections, a professional website takes relationship-building to a new level, leaving a lasting impression on customers' minds. Whenever they search for products or services you offer, your website acts as a constant reminder, fostering familiarity and trust, and strengthening the bond with your audience.
Below are several compelling reasons we mentioned that highlight the significance of having a website for any business:
#1. Building Online Presence:
A website serves as a digital storefront, granting businesses visibility and accessibility in the vast online landscape. It acts as a gateway, connecting with potential customers globally and transcending geographical boundaries, enabling businesses to expand their reach worldwide.
#2. Connecting with Audiences Worldwide:
A website empowers businesses to connect with a diverse global audience, extending beyond local markets. It provides a platform to showcase products or services to a vast pool of potential customers, fostering international brand awareness.
#3. Credibility and Trust:
A professionally designed website instills trust and credibility among customers. It presents a polished and legitimate image of the business, demonstrating commitment to providing valuable products or services. A well-crafted website builds confidence, encouraging customer engagement and informed decision-making.
#4. 24/7 Availability:
Unlike physical stores, a website operates round-the-clock, ensuring constant accessibility for customers regardless of time zones or business hours. This availability allows potential customers to access information, make inquiries, and make purchases at their utmost convenience.
#5. Showcasing Products and Services:
Websites act as comprehensive digital catalogs, enabling businesses to showcase their full range of products and services. Detailed descriptions, high-quality visuals, and interactive features entice potential customers, facilitating well-informed purchasing decisions.
#6. Marketing and Branding:
Websites offer powerful marketing opportunities, providing a digital platform to craft a compelling brand identity. Through engaging content, captivating visuals, and effective calls-to-action, businesses can promote their products, services, and brand values, driving customer engagement and loyalty.
#7. Customer Support:
Websites facilitate seamless customer support through various channels. Features like FAQs, contact forms, and live chat options ensure prompt and personalized assistance, enhancing overall customer experiences and satisfaction.
#8. Data Collection and Analysis:
Websites generate valuable data on customer behavior, preferences, and interactions. Utilizing analytics tools, businesses can collect and analyze this data to gain insights into customer needs and trends, making data-driven decisions for continuous improvement.
#9. Adaptability and Scalability:
Websites are highly adaptable to evolving business needs, accommodating changes in product offerings, strategies, and market demands. Furthermore, websites are scalable, capable of handling increased traffic and growing customer bases as businesses expand.
#10. Competing in the Digital Age:
In today's digital era, having a website is not only advantageous but a fundamental necessity for staying competitive. As consumers increasingly rely on the internet for information and transactions, businesses without a strong online presence risk falling behind competitors and missing out on a significant portion of the market. A well-designed and optimized website is a vital tool for businesses to thrive in the modern marketplace.
Case Study: How This Business Saw a 34% Increase in Revenue by Revamping a 5-Year-Old Website
Introduction:
 Since 2018, a well-known workwear brand in India has maintained its WordPress website, showcasing a diverse range of workwear products. The website serves as a comprehensive listing, featuring multiple workwear items designed to cater to various industries and customer preferences.
Pain Points:
Slow Loading Times
Insufficient information
Responsiveness issues
Outdated appearance
Non-SEO friendly content
This leading workwear brand reached out to Wolfable to discuss the pointed-out issues with their current website and share their vision for the next 10 years. During the conversation, they presented all the identified problems and sought ideas for improving their website in alignment with their long-term vision.
A Solution:
In the face of adversity, Team Wolfable seized the opportunity and crafted an elaborate plan that not only delivered a new website to the workwear brand but also transformed it into a powerful lead-generating machine.
Recommended and selected a WordPress platform for developing a website that perfectly matched the requirements and time frame
The UI development was carefully executed to ensure responsiveness and allure, captivating any potential customer
Attention to detail was given to each product category, ensuring ample and informative content was provided Mobile friendliness was prioritized as the top consideration during the development process
Search engine-focused keywords were strategically incorporated in the content to enhance search engine visibility
Sufficient and strategically placed calls-to-action (CTAs) were employed to facilitate easy inquiries and engagement from users
Results: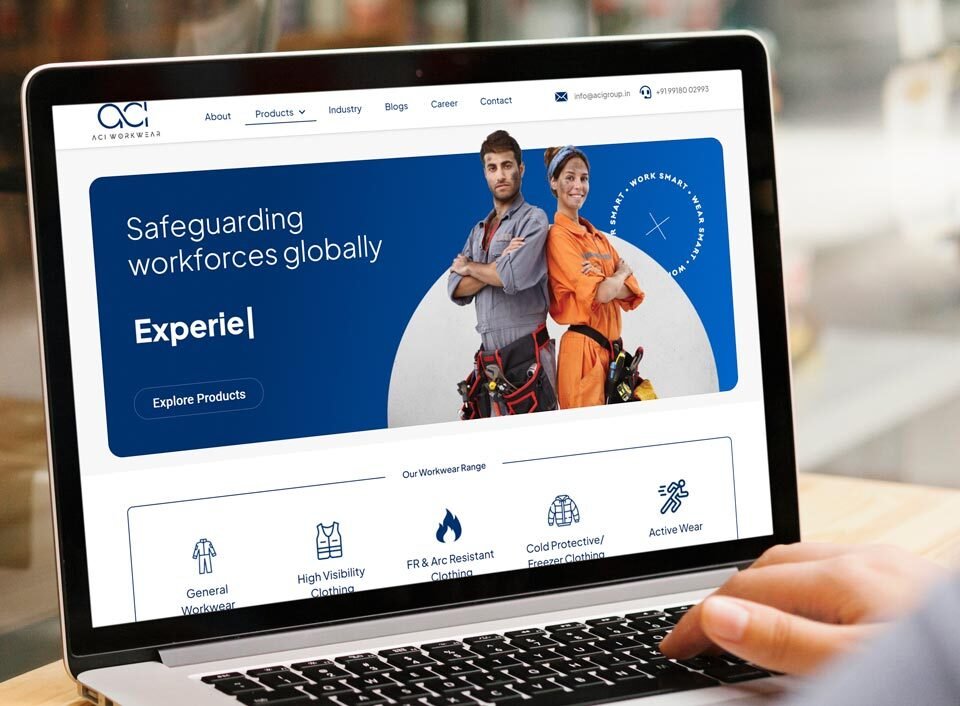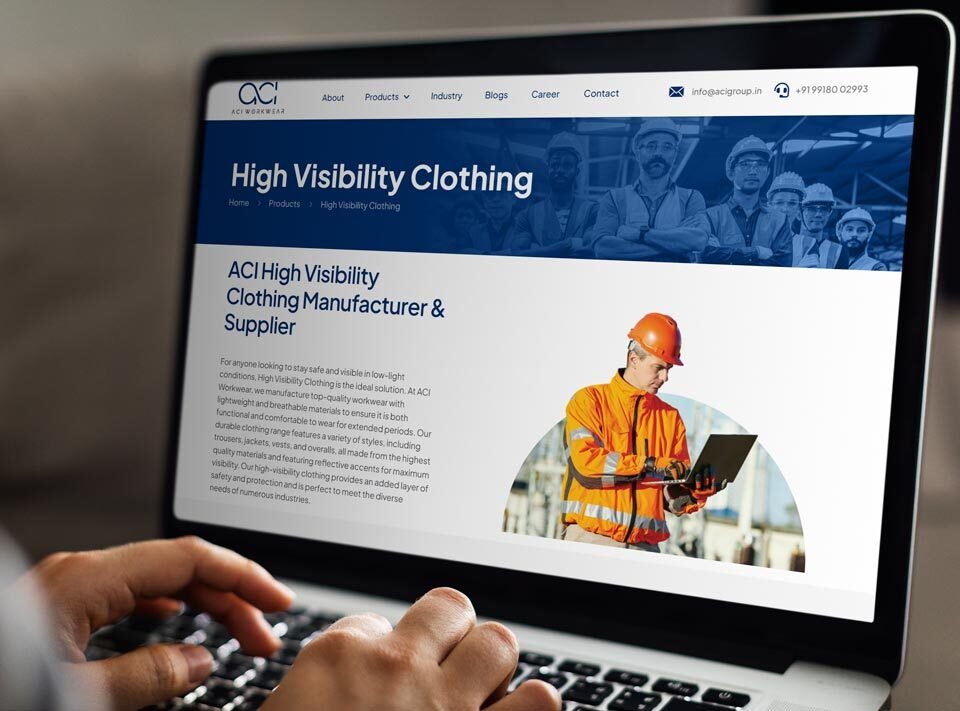 A remarkable 112% increase in website traffic demonstrates the effectiveness of the new website and SEO strategies in attracting more visitors.
Generating an average of 22-25 leads per month indicates a successful lead generation system.
A 60% increase in new lead calls and catalog downloads further reflects the enhanced engagement and interest of potential customers.
The significant 72% growth in new clients and export inquiries highlights the website's ability to expand the business's reach and appeal to a broader audience.
The overall sales spiking by 34% in just 6 months showcases the combined effort's positive impact on the business's bottom line.
This showcases the remarkable transformation achieved by the Wolfable team as they successfully won the trust and satisfaction of a customer who initially had reservations about website development with a modern approach and continuous SEO efforts. Through their unwavering dedication and expertise, the customer's confidence in the process was bolstered, leading to a substantial uplift in overall sales. The professional efforts and commitment displayed by the Wolfable team paved the way for a successful and fruitful collaboration, yielding significant positive outcomes for the customer's business.
If you are in the retail sector, running a small-scale industry, or managing a small shop, the significance of a well-built website and continuous marketing efforts cannot be ignored. At Wolfable, we firmly believe in the power of not just converting clients but also delivering value-driven solutions that exceed clients' expectations.
With sales-generating websites at the core of our offerings, we consistently aim to convince clients of the legitimate reasons why having a website is crucial. Furthermore, we emphasize that investing in long-term SEO strategies can transform their website into a lead-generating machine. Our dedication lies in providing clients with a compelling case for the necessity of a well-crafted website, backed by the potential for significant returns through effective search engine optimization.
Our professional team of developers and marketers is dedicated to providing businesses with the necessary tools and strategies to thrive in the digital landscape. We understand the unique needs of our clients and work diligently to ensure that their online presence and marketing endeavors yield maximum benefits and success.