Digital Marketing
Why Digital Marketing Agencies Should Hire White Label Services – A Definitive Guide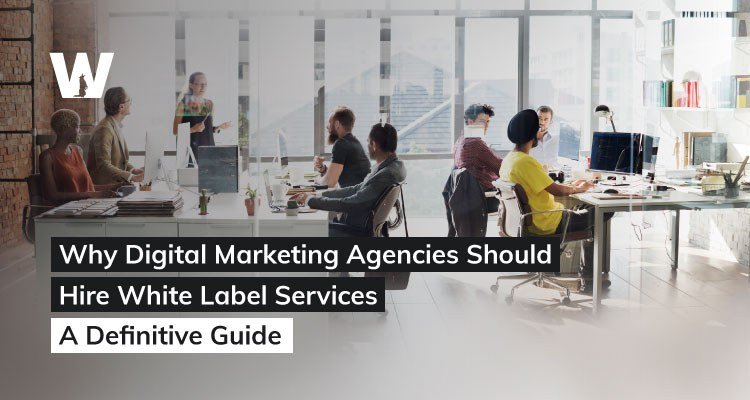 The world of digital marketing has rapidly evolved in the last few years while also becoming quite saturated. Newer & newer products come out every day, and with them, the marketing industry keeps expanding, especially digital marketing.
In the sea of products and the expanding marketing space, digital marketing agencies need to make themselves relevant, different as well as profitable. Hence, they need to keep up with the growing market trends, fashions and also the constant influx of new products, services, and clients.
For this, agencies will have to hire staff for every department and service, recruit them, train them and more, which will lead to large expenses. Maintaining a large group of personnel is not a small task and for marketing agencies that experience constant fluctuations of incoming clients or slow business, that is not feasible in the long term.
Becoming a one-stop-shop may prove to be difficult but there is a way for digital marketing agencies to get ahead in the growing marketing space while still being able to offer a broad spectrum of services. That solution lies in white label marketing agencies.
This blog is about white label agencies, their importance, benefits, and how useful they can prove to be for digital marketing agencies.
Understanding White Label Agencies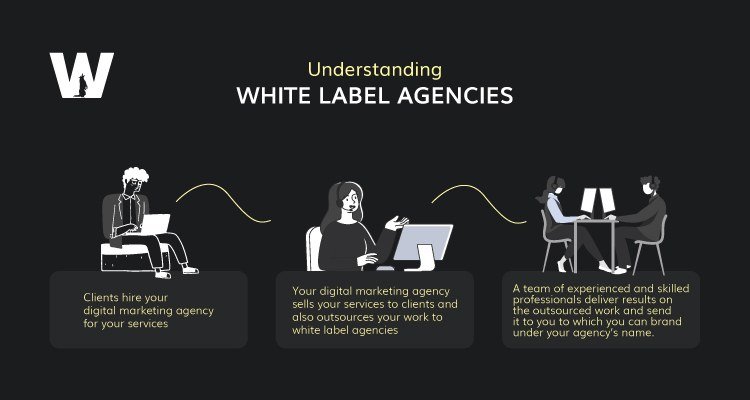 White label marketing agencies are companies that offer a variety of different specialized skillsets to other digital marketing agencies. After hiring such agencies, your marketing efforts can be outsourced to them.
White label agencies offer a variety of different services like SEO, social media marketing, content marketing, email marketing, web development, and more. The results that are delivered to your company, can be rebranded as your own services and offered to your customers.
Unlike other outsourcing agencies, white label agencies are designed for this specialized skill set and can offer premium services and high-quality results.
With the stress of managing such a wide range of services gone, white label agencies allow you to apply your time and energy to your company's own operations and move your focus on growth and profitability
How do white label services differ from freelancers & specialists?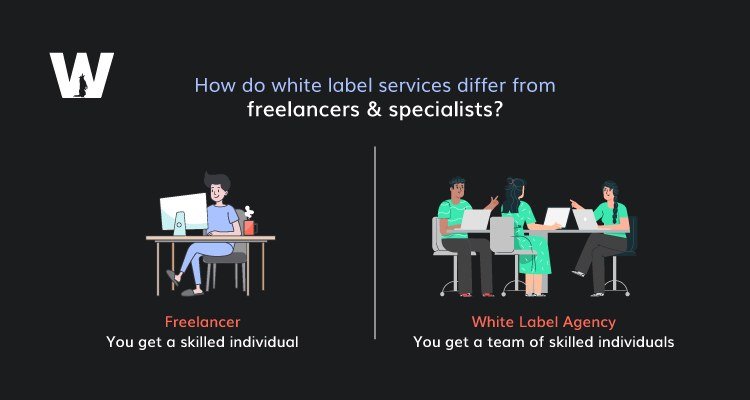 Freelancers are professionals who can be hired for their skillset on an hourly or project basis. Unlike white label agencies which are outsourced partners, freelancers once hired become in house partners.
The main difference between the 2 lies in reliability and dependability. A freelancer is one person while a white label agency is a team of people. In case of unavailability, white label agencies will have others to cover the work, but freelancers will not. Their work will remain pending until they are available again.
On top of this despite them having the same skill level and level of experience, unlike white label agencies who operate on a fixed delivery time, freelancers may not deliver according to the need of the company.
While there is no certain answer as to which is better, they each have different methods of operating along with different merits and demerits. Hiring companies may prefer one or the other depending on budget, experience, skill level as well as the above-mentioned points.
Benefits of White Label Agencies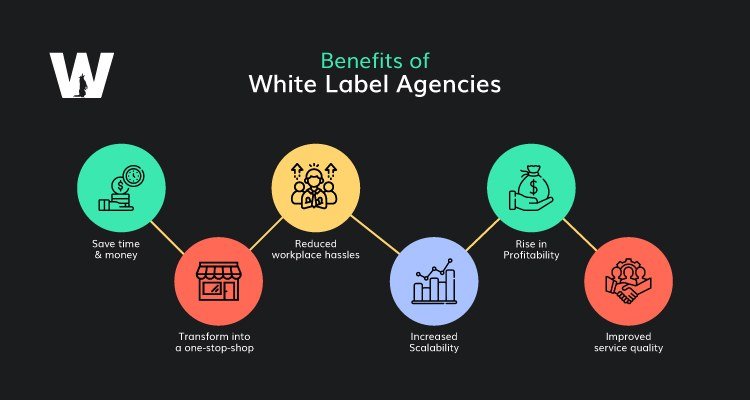 1. Save time & money
Hiring an in-house team consisting of full-time professionals is quite expensive as maintaining an in-house team includes recruitment, training and then salaries. If a white label marketing agency is hired instead, they will allow companies to get the same level of experience and skill as an in-house professional team but at a reduced cost. This will save money as companies won't have to maintain an in-house team. Even better is the fact that white label agencies are hired on a monthly or on a project basis, which means their services can be discontinued without losing money.
White label agencies take the burden of your company's work, which allows you to focus on what you do best as you now have time to do so. This way companies can also focus on their core competencies.
2. Transform your business into a one-stop-shop
Hiring a white label agency affords your company a vast range of services akin to a full-service agency. With this, companies have a chance to give their own clients this vast range of services without having to maintain a full-time professional team. You can transform your business into a one-stop-shop of marketing services without having to actually do the same.
Such a thing will attract new clients as well as help to retain old ones.
3. Decrease in workplace hassles
When partnering with a white label agency, you are not hiring their team as in-house employees. The company's work is outsourced to the agency instead. This means that the company will not have to deal with the workplace hassles that accompany a team of employees.
The company will simply outsource their needs and receive proper results in return. There will be no hiring, recruiting, training, managing, maintaining of any kind. Your company will also not have to deal with motivation problems, employee compensations, employee unavailability, Legal & regulatory compliance, etc.
Many workplace hassles will be reduced with some being all together avoided.
4. Get a chance to scale and increase profitability
White label agencies allow you and your company to move concentrate on your own operations. This way you can focus on growing which is a great gift for companies that are fast-growing. This coupled with the low risk is an amazing boon.
Your company will be afforded a chance to scale higher (or lower if you wish). Companies can dedicate their newfound time to expanding their business, attracting new clients, offering more services, improving relations with clients and making growth a priority. Furthermore, this rise in scalability will also lead to newer revenue streams and newer revenue streams will lead to higher profitability.
5. Improve the quality of your services
With white label agencies, you get the benefit of a team of professionals who are experienced in the marketing space and who possess skills that are specialized for exactly what your companies need and want.
This will lead to an improvement in the quality of services that your company offers and this enhancement will certainly not go unnoticed by the clients which will affect their brand loyalty and trust in a very positive manner. Also, clients will be absolutely satisfied, which is always a good thing.
Along with this, an improvement in services coupled with the increase in the number of services (as mentioned in point #2) will certainly enhance your company's reputation as well, which will result in an influx of new clients.
In all, white-label marketing agencies are the perfect partner in growth for companies operating in the current marketing space that is gradually being digitalized.
Wolfable is one such agency that can prove to be an ideal white label partner. We assist companies in all their content and design needs and ensure on-time and quick deliverables.