Digital Marketing
Times are tough, but don't miss the silver linings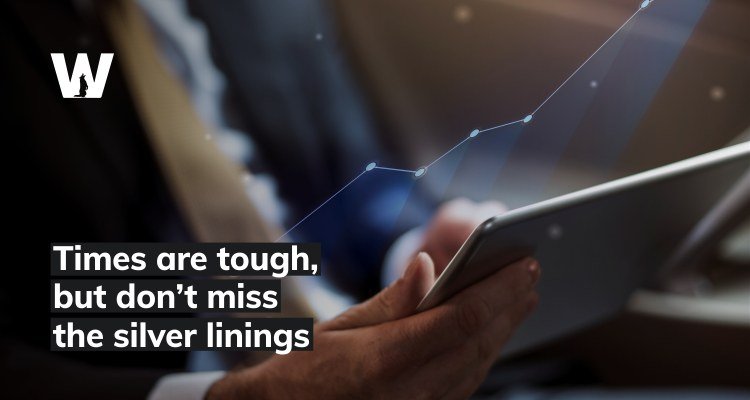 Coronavirus pandemic has thrown the unforeseen challenges in front of global functionalities. The market stability across the world on the stake which may seem to be defeated. There is rarely any sector which could spare from the hard-hit virus including manufacturing, automobile and even the service industries. But this is just one corner of the room as there are some hidden perspectives which indicate the benefits that markets are seeing. Through smart market analysis and unprecedented solutions, there are numerous ways a business can be benefited amid the crisis. This is called the silver linings that marketers shouldn't miss.
COVID-19 impact on businesses
This pandemic is affecting the health of the public but beyond that, it's also impacting the small and mid-size businesses which are finding it very difficult to sell their product. As the entire lockdown was so instantaneous that business couldn't adjust in a short span. So they are facing a big challenge to adopt the new consumer behavior and target the audience according to that. As most of the business used to depend on traditional selling methods, now they are struggling to attract the consumer which has locked himself behind the door and don't know what market is offering. The old method of reaching the consumer has completely over.
That's pretty sure that the situation is difficult but it is not the end of the world. There are still certain steps through that profit can be maximized and minimal disruption can be ensured. The businesses need to figure out new ways to reach consumers. And the best part is they are getting benefited through their smart approach.
And that approach is digital marketing. As people have barred themselves indoors and are spending more and more time on the internet, businesses have an opportunity to capture more eyeballs through their digital marketing efforts.
How can your business be benefited?
As the consumer lifestyle has varied in lockdown, digital marketing for your brand needs to be handled tactfully, for both product & service.
Digital marketing for product
As the pandemic has put a restriction of physical contact, the consumer is not going to come to your shop. During the lockdown, according to a survey by community platform LocalCircles, around 78 percent of consumers wanted the government to permit e-commerce platforms to deliver all goods beyond essentials. It means the consumer is preferring to shop through online delivery. So digital marketing can help your business to grow by carrying the message that you are open for delivery.
Apart from the old customer, now, you can penetrate the whole new market which is waiting for your product but didn't know about it before. Through digital marketing, you can communicate and engage with your customer. You can get feedback that was not possible in offline marketing before.
Digital marketing for service
There is a tremendous shift in the service industry from offline to digital presence. Through digital marketing, you can provide your services to a bigger scale and acquire new customers. There are n number of users in the market that are looking for the similar services that you provide. Through Facebook Pixel and Google retargeting you can segment your customer on the basis of geography & demography and can target them.
In today's era, Digital marketing is the most efficient way to carry your service out where you not only reach a huge audience but also monitor your engagement with them. You can track their likes and dislikes, their behavior pattern, schedule, response, and can mold your service according to that.
Change is the only constant. If you want your business to be sustained in the time of pandemic you have to move with a new normal to your business mean digital marketing. It is one of the most convenient & cost-efficient solutions compared to offline marketing. That not only will save your money but it is also trackable. Digital marketing has a huge potential as long term marketing belongs to the digital medium. So move with the trend and grow your customer through digital marketing.