Social Media
How to Elevate Your Business Through Social Media Marketing During Corona Crisis?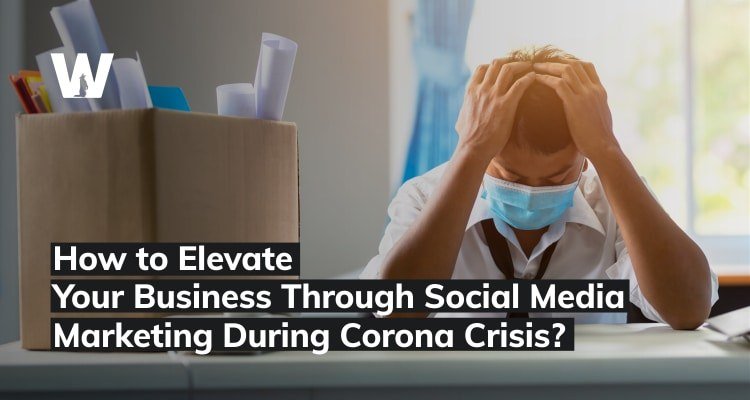 The COVID-19 pandemic effects are visible on the businesses around the world as many people are working from home due to the stay-at-home orders. Some companies are compelled to temporarily shut down their activities due to restrictions. The coronavirus crisis created chaos for brick-and-mortar stores as they are finding it difficult to sell their products due to a lack of digital knowledge.
During uncertain times, social media has swiftly worked as our partner for information and updates. Due to the COVID-19 situation, social media recorded a drastic change in usage among people.
The usage of Facebook alone skyrocketed more than 70% in March. Whereas Instagram recorded more than 40% of new traffic on their app due to the corona situation. As per the report published by Statista, Avg time spend by Indians using social networking applications per week increased to approx 4.5 hours from 3 hours during coronavirus restrictions.
Now the bigger challenge is how you should address your Social Media Marketing in these worrying times. Statistics show that now is the right time for business owners to redefine their social media presence so as to develop a relationship with the prospect in the area where they are spending most of their time.
The power of online marketing is visible more than ever mainly due to the absence of offline events and meetings. Due to social distancing norms, face to face business with your prospective clients/customers is impossible in near future.In fact, big companies like Samsung or Apple are using online channels to launch their phones so as to avoid any disruption caused due to pandemic.
So the question is, how should we design our social media marketing tactic to elevate our business during a crisis like the COVID-19 pandemic?
Luckily, we are here to guide you about how we help business owners to figure out the way to boost social media presence according to the present situation.
Invest in the Right Platform
The world of social media is now bigger than ever due to so many platforms floating all around the internet. You just have to invest in the right one. Our managers help businesses to establish a relationship with their target audience. It's crucial to explore different platforms like Facebook and Instagram to establish new connections with your prospects. Another really popular platform is Linkedin which is picking up organic content at a much faster pace and is really popular among online platforms to build professional connections. Engaging on multiple platforms at the same time will help your product to reach the maximum audience.
Deliver the Right Message
Influence your audience through business social media branding by successfully engaging with them and satisfy their needs in these troubled times. It is the right time to use your brand's social media platforms to not only talk about your products and services but also to be sensitive towards the present problem. Always remember, empathy will show its reward in the long-term.
Be committed to your viewers and listen to their opinions
The comment section is a gold mine, Yet to discover by many businesses on social media platforms. It not only gives you feedback but also helps in engaging with the target audience. If you interact with your customers on your posts then there is a possibility that they will spread the word about your product or services. Social media isn't a tool that's just waiting to be used. It should be perfectly aligned with your business goals to achieve optimum results.
Final thoughts on using social media to grow your business
Are you inspired to start using social media to generate more inquiries and brand awareness for your business?
Let us help you to create your social media marketing strategy that work towards your goals and focuses on providing value to your target audience.