Social Media
Leveraging Social Media for Manufacturing Brands: Tips and Case Studies
Social media marketing for manufacturing companies is a great way to build brand awareness, engage the right audience, and attract qualified leads.
However, there are a lot of manufacturing companies that struggle to implement effective social media strategies.
In today's highly competitive market, manufacturers cannot afford to stay behind the competition. Hence, adopting social media and using it effectively is crucial to reach more audiences and generate leads.
In this blog, we'll discuss all things social media marketing for manufacturers – its importance, benefits, and top platforms.
By the end of the blog, we'll discover effective social media marketing strategies, content ideas for manufacturing companies, and how to actually implement them.
What Is Social Media Marketing For Manufacturing Companies?
Social media marketing is a creative process of crafting different forms of content for social media platforms to promote your products and services.
It plays an important role in manufacturing business success.
Whether you want to build brand awareness, engage prospects, increase sales, or stand out from the competition, brilliant social media marketing can make it all happen for you.
All and all, social media marketing for manufacturing companies is about socially interacting with your target audience, providing them with the required value, resulting in business growth.
Why Is Social Media For Manufacturing Important?
Why do manufacturing companies need to adopt social media? Why is social media for manufacturing so important that manufacturers are building effective strategies and implementing them for better growth?
Here are some stats to answer these questions:
1️⃣ There are 4.9 billion people in the world using social media, meaning with the best social media strategy, you could potentially reach the right audience. (Source)
2️⃣ 74% of B2B buyers research product information and brand details on social media before purchasing. (Source)
3️⃣ Around 93% of industrial manufacturing marketers use the social media platform LinkedIn and claim LinkedIn produces quality results. (Source)
4️⃣ LinkedIn, Facebook, and YouTube are the top social media platforms for manufacturing companies to generate sales-qualified leads and reach more audiences.
5️⃣ LinkedIn is used by 86% of B2B professionals, followed by Facebook (79%), Twitter (60%), Instagram (60%), YouTube (56%). (Source)
Best Social Media For Manufacturing Companies
Benefits Of Social Media For Manufacturing
There are multiple reasons why manufacturing companies should use social media marketing. Below are some of the common advantages of social media marketing for B2B:
Brand Awareness
Social media marketing is a proven approach to building brand awareness and reaching millions.

Manufacturing companies can use social media to promote their products and services to improve customer loyalty and convince customers that they are the right company to work with.

Lead Generation

Product and service promotion on social media is a great way to improve lead generation and boost conversions. You can advertise your product or service to target people to drive engagement and increase sales.

Reputation Management

A good reputation is highly important for every manufacturing business. With an active presence on social media, you can monitor negative comments about your company and respond quickly.

Foster Relationships With Customer

Social media allows you to connect and engage with your followers, which can help you build lasting relationships with your customers.

You can take advantage of social media to interact with your customers through posts, responding to comments, resolving issues in real time, and organizing giveaways.

Sales Promotion

Social media marketing allows you to boost posts and run product and service ads for promotion. You can use this advertising opportunity to promote your products/services to a particular audience and increase your sales.
Tips For Leveraging Social Media In Manufacturing
Here are some of the top social media marketing tips and strategies to follow in order to engage the audience and grow your business online.
1️⃣ Know Your Audience
Social media is useful for manufacturing companies; however, you can't just randomly plan your social media marketing strategy without knowing the right target audience.
You need to know the demographic of your audience, such as age, job title, income level, education, location, or behavior. Your target audience is the one that is more interested in your product or service.
Identifying your target audience will help you determine their pain points, problems your product or service can solve, the tone and voice you can use, and more.
2️⃣ Choose the Right Platforms
Once you have identified the right audience, figure out which social media platform is best for manufacturing companies.
Every social media platform is built differently and has unique features and users. For example, Instagram and Facebook are social media for manufacturing brand awareness as they will help gain visibility and engage and interact with customers. YouTube allows businesses to share and interact.
On the other hand, LinkedIn will help manufacturers target potential clients, generate qualified leads, and build personal connections. Hence, define your goals and choose the social media platform accordingly.
3️⃣ Content Strategy
"If content is king, then context is God" – Gary Vaynerchuk.
Creating and publishing random content on social media channels just to ensure you are active won't work.
Plan an effective content strategy that involves researching topics and post types that will engage the audience, preparing a content calendar and schedule, crafting creative content that delivers the context to the audience, and tracking metrics to improve the strategy accordingly.
This will help you earn the attention of your audience and build a valuable social media presence.
4️⃣ Visual Storytelling
Visual storytelling is a great way to hook your audience. It includes graphics, images, videos, and storylines that connect and communicate with the audience's emotions.
A great story can effectively capture the audience's focus while keeping them engaged with content.
5️⃣ Engagement and Interaction
It's important to know if your social media marketing efforts are successfully meeting your business goals or not. To identify this, tracking social media metrics is needed.
Social media engagement metrics show how many audiences were involved and valued the content, whereas interaction metrics show the active participation of the audience.
There are many platforms that can help you track social media metrics to improve overall post engagement and interaction.
6️⃣ Utilizing Paid Advertising
With billions of active monthly users, social media paid advertising is worth exploring to target a large number of prospects.
If you aim to enhance brand awareness, build customer loyalty, increase leads, and reach more audiences; you should try advertising your content.
Social media paid advertising for manufacturing companies helps reach specific demographics and geographic locations, target interested audiences, drive higher engagement, generate quality leads, control marketing budgets, and track return on investment.
7️⃣ Stay Consistent
Consistency is the key to success.
Make sure you are consistent with your social media posting as it's important to keep your audience engaged and hooked.
To maintain social media consistency, try preparing a social media calendar and schedule posts in advance using social media tools.
8️⃣ Use LinkedIn
With over 900 million active users, LinkedIn is an undeniably powerful social media platform for reaching large audiences. Additionally, LinkedIn is majorly used by Baby boomers, Generation X, and Millennials – so if they are your brand's target audience, it will be helpful to use the capabilities of the LinkedIn platform to build connections and generate leads.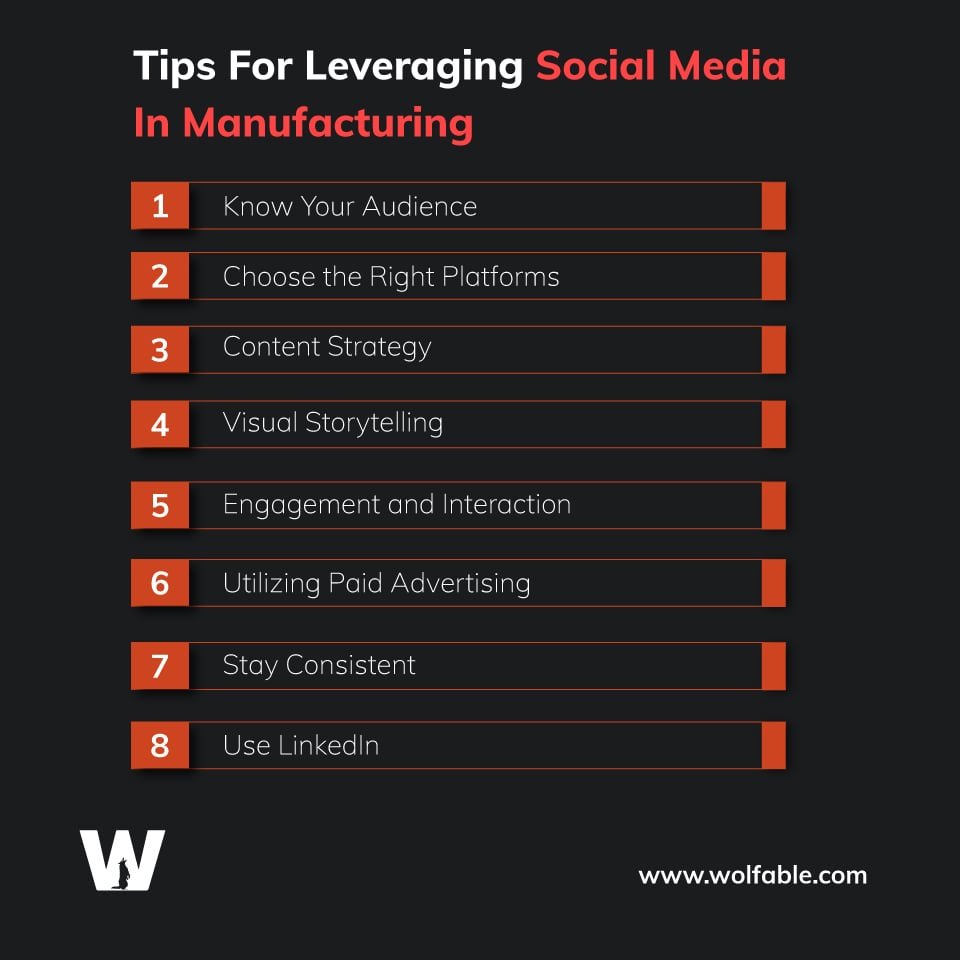 Social Media Content Ideas For Manufacturing Companies
Video Post

52% of manufacturing marketers claim that videos provide them with the best results. (Source)

Videos are an effective way to promote products or services, manufacturing processes, and brands. Video content can help manufacturers increase user understanding of their products and services.

There are many benefits of video content marketing, such as increased brand awareness and recognition, improved customer engagement and interaction, and high search engine ranking and website traffic.

You can plan how-to videos, product or service explainer videos, corporate videos, and many other types of video content.

Carousel

Carousel posts are important for manufacturing companies. It allows you to share a broader story and promote your brand.

It includes multiple images and videos in swipeable slides, which tend to interact with more customers and drive more engagement.

Product Post

You can share product and service-related information on social media to help customers understand what they are buying.

Product and service posts can include product/service uses, benefits, and other information that can be useful to customers.

Share Event-Related Content

Manufacturing companies can use social media to announce upcoming events, trade shows, exhibitions, and more to boost brand recognition and credibility.

You can encourage your audience to participate in your events and leverage the opportunity to network and promote your product and service face-to-face with your customers.

User-Generated Content

User-generated content is a type of content that is created by people and not the company itself. This includes text, videos, images, reviews, etc. UGC content is found to be engaging and allows the brand to win customers' trust.

The customer becomes more confident with their purchase when they see original user-generated content, as it makes them feel relatable.
How To Implement Social Media Strategies For Manufacturing Brands?
Step 1: Set Goals
The first step is to set clear goals by defining your business goals. Decide if you want to leverage social media to build awareness, drive more website traffic, increase lead generation, engage customers, or improve customer satisfaction.
Know your goals and then create an actionable social media marketing strategy that helps you achieve your goals.
Step 2: Research Audience
After defining your social media goals, it's time to define your target audience. Identify your target audience's needs, pain points, interests, and behavior and later create a content strategy that catches their attention and is valuable to them.
Step 3: Establish Metrics
Focus on social media metrics and check if they align with your business goals. Metrics you can track are post reach, number of clicks on content or account, customer engagement through the number of impressions, hashtag performance, and organic vs. paid likes.
Step 4: Create Content
After following the above steps, it's time for the crucial part – crafting creative and engaging content.
Create content that convinces viewers to click on your CTA button. Use different types of content and content strategies to plan your content that reaches more audiences and drives engagement.
Step 5: Publish Content
Scheduling your post in advance is a great way to manage social media and stay consistent while saving your time.
Step 6: Evaluate And Improve
After publishing your post, it's important to track your marketing efforts, identify the most effective strategies, and improve your content marketing strategy that supports your audience and your business goals.
Emerging Trends And Technologies In Social Media
Social media is continuously evolving. Many trends and technologies are driving the future of social media marketing. Let's dive into emerging trends and technologies in social media.
Trends In Social Media For Manufacturing
1. Video Content
Video content for manufacturing companies is among the top social media trends. It allows manufacturers to showcase their products, manufacturing processes, behind-the-scenes and customer testimonials.
2. Influencer Marketing
Influencer marketing is another emerging social media for the manufacturing industry. Manufacturers can collaborate with industry influence to improve their brand credibility and connect with relevant audiences.
3. Events and Webinars
Events, trade shows, webinars, and exhibitions are gaining popularity in the manufacturing industry. This is a great opportunity for manufacturers to showcase their products and promote such events on social media to influence customers to participate.
4. Real-Time Support
Social media allows real-time communication with customers. This helps manufacturers know and address customer queries, resulting in satisfactory customer experience and stronger customer relationships.
5. User Generated Content
User-generated content is another growing social media trend that helps manufacturers stay ahead of the competition and build a robust community.
Technologies In Social Media For Manufacturing
1. Artificial Intelligence
Artificial intelligence is on the rise. Social media platforms are using AI capabilities to enhance their customer experience.
Facebook is using AI to ease numerous tasks, such as face recognition, identifying target users, and enhancing search functionalities.
Similarly, LinkedIn is using artificial intelligence for job recommendations and connection suggestions.
2. Radio Frequency Identification Tags
Radio Frequency identification tags (RFID) are currently becoming very popular. RFID is mainly a computer chip that has information about an object or brand.
To give an example, you are participating in an event, here you can use an RFID device to allow your customers to scan them and direct them to like, share your post, or follow your account.
This technology can be used at major events and is helpful in creating social media connections.
3. Augmented Reality
Augmented reality is one of the most famous social media features.
Facebook offers features of 360 photos and videos, while Instagram also has some cool AR filters. Brands can use AR-driven filters to create engaging content and drive customer attention.
4. Blockchain
Blockchain is revolutionizing social media. It allows social media users to share, interact, and communicate online with greater transparency, data ownership, and decentralized incentives.
5. IoT
IoT is a great social media technology. It is used for tracking and real-time monitoring of data and insights to allow users and business owners to make informed decisions.
How Manufacturing Brands Can Stay Ahead Of The Curve
Social media is constantly shifting and evolving. It has significantly changed the way we communicate, access information, purchase products, and sell. It also plays a crucial role in the manufacturing industry.
Manufacturers cannot overstate the importance of social media. Manufacturing companies can transform their business and drive growth. By taking advantage of social media's latest trends and technologies, brands can streamline operations, increase credibility and brand awareness, generate leads, and boost sales.
By and large, the best way for manufacturing companies to stay ahead of the competition is to simply leverage social media marketing and be aware of the latest trends and industry news.
Embracing new marketing strategies opens new growth opportunities, gives an understanding of customer preferences, and expands the brand to new prospects.
Case Studies: Manufacturer Website
Client Name: Jaykrishna Magnetics Pvt. Ltd.
Jaykrishna Magnetics Pvt. Ltd. is the leading manufacturer and exporter of Magnetic Separators and Vibratory Equipment in India since 1978.
Objectives:
Jaykrishna Magnetics Pvt. Ltd. had to build their social media presence and boost visibility to drive organic leads and inquiries
Build and maintain a social media presence
Drive leads and inquiries through social media channels
Drive organic traffic
Solutions:
Crafted effective content marketing strategy related to customer pain points and created solution-oriented content
Created detailed video content and posted on YouTube and other channels<?li>
Used native language in video content and other social media posts
Publishing fresh content and sharing it on social media
Results We Delivered:
Increase in organic traffic
4,38,618 views on a single video on YouTube
Start Social Media Marketing With Wolfable
Social media isn't going anywhere.
With billions of people on social media, you can't ignore social media marketing for manufacturing brand awareness.
However, figuring out the target audience, running ads, planning content, understanding social media marketing trends, and more can be overwhelming.
But when done right, it can give valuable results.
The best way to benefit from social media for your business is to partner with a trusted digital marketing agency.
Wolfable is a global outsourcing digital marketing agency headquartered in India. We offer comprehensive social media marketing services for manufacturing companies.
We create effective social media marketing strategies that will help you increase your number of followers, improve engagement, build brand awareness, and generate leads and conversions.
Contact us today to begin your social media marketing.
Read More: