Digital Marketing
Why Content Creation Is Important In Digital Marketing – An Informative Guide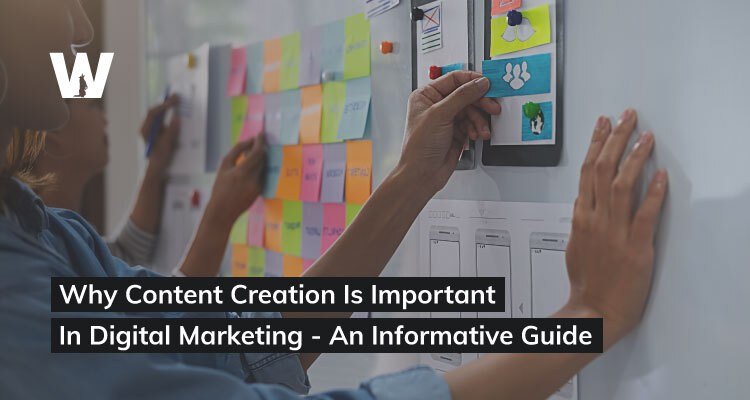 The old ways of marketing are starting to become obsolete. The marketing space has moved online and has become digital. With this transition into online marketing, the past methods of marketing have gone out of style and have been replaced with something newer, something better. That something is 'content'.
With the shift of focus to the digital world and with customers moving their efforts and attention onto the online world, understanding content and content creation have never been as essential as they are now. Content has become the king of the market space.
It has the potential to raise brands to the top or push them down to the bottom.
Content creation and digital marketing have risen to become the primary ways through which customers know about and interact with businesses and brands. This is why such organizations need to create relevant content and maintain their presence in the online world.
To do that they must have an understanding of what content is and learn how to master content creation. By this logic they need to know what types of content exist to learn how to use them, so let us find out what types of content rule the digital marketing world.
Social Media Posts
Social media platforms are one of the best platforms out there to create and spread content through. Posting your content on platforms like Instagram, Twitter, LinkedIn, etc will give your content a wide reach as each platform has its own type of users. Social media posts are not limited to one type of content, photos, videos, reels, infographics and much more can be posted on social media. Such platforms can be used as a way to keep in touch with customers and maintain a positive relationship with them.
Blogs
Blogs are great tools to help build trust and authority with customers. Blogs are written pieces of content that are about topics chosen by the business. Usually, blogs are written to inform customers and provide them with relevant information about various topics related to the business and its products and services.
Blogs are one of the oldest forms of content on the internet. Blogs with a lot of detail have a chance to attract a lot of organic traffic to your site while also informing potential customers about your business' products and brand.
Videos
Videos are one of the most successful types of content and tend to be one of the best ways to engage and attract customers. Videos can be used to provide customers with relevant and detailed information but in a quick way that does not take effort on the part of the customers. This way they will consume the content with interest and also hold the potential for most conversions.
Podcasts
Podcasts are a personable way to reach potential customers. They have grown to be quite popular in recent times and according to Statista, it is estimated that there will be as many as 132 million podcast listeners by 2022.
Podcasts allow customers to consume content without paying a lot of attention. E.g., they can listen to podcasts while doing some other work, they consume the information while going about their day. This type of content is also effective on customers who do not like to read, as they will opt to listen instead of reading.
Newsletters
Newsletters are one of the best types of content for brands to maintain a positive relationship with regular customers. They can use newsletters to provide customers with daily updates about the workings and business of the organization. They can also be used to provide customers with information about upcoming offers, products, services, etc.
Email Marketing
Email marketing and email content are some of the most useful forms of content and it has the best ROI of content. They are a great way to reach out to customers directly and pique their interest in your products.
They are short, sweet, and concise, which does not make them boring to read. Emails are also sent with catchy headlines that motivate customers to open them and read the message.
Email campaigns are known to be one of the best types of content that end up attracting many customers.
Reasons Why Content Creation Is Important
Now that we know what types of content exist, let us find out why exactly should brands create content:
1) Helps To Build Trust With Customers
The quality of content matters. Customers do not consume and view content just for the sake of it, they consume it because it interests them and provides them with satisfaction. In the same way, businesses should also not just create content for the sake of providing content, the content they create and provide should be something that will be useful for their audience and customers.
If they provide exceptional content, customers will naturally want to keep coming back for more. The more time they will spend consuming your content, the more comfortable and familiar they will get with your brand. They will get to know your business and your services properly. On top of this customers are more likely to have a favourable impression of your brand if they see more high-quality content.
Quality content will build a relationship between your business and customers as well as build trust in customers towards the businesses and their brands.
2) Increases Brand Recognition
A company's brand is made up of the bits of content that is posted by them. The brand is also defined by the library of images, videos, resources and other fresh material that is created and posted by them every day. Customers and potential customers also associate the brand with the aesthetic and nature of the content that is posted by the business or company.
The brand's name is established and recognized each time someone watches their videos or clicks on their photos. Content will help imbue the business' services in customers' minds and whenever they look for a similar product or service, your business and brand will be the first ones to come to mind.
3) Aids In Search Engine Optimisation [SEO]
Creating and spreading content helps businesses become and stay visible in the market. Possessing unique, aesthetic content helps brands set themselves apart in the minds of customers and helps identify them as useful and trustworthy.
Having continuous, consistent content also helps customers to find your business when searching online. With the right content strategy and the right quality of content, brands will be able to build trust with their audience and also help them rank higher online. Ranking higher will allow customers to easily find them online.
The right type of content, coupled with proper keywords will help the business' SEO efforts greatly.
4) Helps To Generate Leads
Consistent and continuous content is very advantageous for a brand. Every new and fresh piece of content created by you has the potential to reach new people and convert them to customers. When your content piques someone's curiosity, you're forming the first relationship, or generating a lead.
Additionally, potential customers and target audiences are more likely to consider your business or buy from you if they come across your content. Calls-to-actions placed in the content can also convert people into customers, especially through their potential to guide customers to landing pages.
The more impressed a customer or a potential customer is with your content, the more likely they are to buy from you. Content generates leads and also has the power to motivate the leads to get converted to loyal customers.
5) A Good Way To Show Your Expertise
Content creation is a way to stand apart and establish your business as an expert. The quality of your content and what it comprises of can be used to show customers and prove to them why your organization is the best one in its market or field.
E.g., if you are a digital marketing agency then your content can be about how you can help customers with digital marketing and what exactly makes you the best agency. You should discuss your subjects in depth with possible clients to show that your agency is knowledgeable and possesses expertise.
The popularisation and wide use of content make it hard to understand what it exactly is. So here we have answers to a few frequently asked questions about content creation:
1)What is content creation in social media?
Content creation is a method in digital marketing used to generate leads, raise awareness about one's products and attract customers to ultimately drive sales. This is done by using platforms like social media to spread content about your business/company. The process begins with researching about target audiences, learning what they are interested in, planning content strategies to create content that will engage them, interest them and attract them. Next, the strategies are given shape and ideas are crafted and then implemented by posting the planned content.
2) Social media content creator free tools
Here are some of the best free tools for social media content creators:
Graphic design tools like Adobe Spark, Adobe Illustrator, Canva, etc
Grammarly: a tool to improve the quality of written content and help make it grammatically correct
Social media platforms like Instagram, Facebook, Twitter, etc, can be used to post the content you create
Social media management tools like Hootsuite, Metricool, etc
3)How to start content creation?
Content creation is an art. It is a planned, thought-out process that requires hours of effort and understanding. To get started creators should begin with an idea. Then comes the research part.
Creators need to determine who their audience is and then conduct in-depth research into their likes, dislikes, what past content worked on them, etc.
After this, the creators need to determine how the content will be spread. Determine the platforms to be used, types of content to be used. After this, the creators need to start planning the actual content. The free tools mentioned in the FAQ above can be used to get started. Content should be created and at the end, the content needs to be proofread before publishing.
Digital marketing agencies like Wolfable understand the importance of content in present times.
Our team of experts who deliver timely deliverables and provide high-quality services spend their time creating, researching, and planning content to be able to give you the best results.
We bring you fresh ideas for your content and help you maintain a consistent stream of content.
To know more about our work visit us today.