Digital Marketing
Building a Strong Online Reputation for Manufacturing Business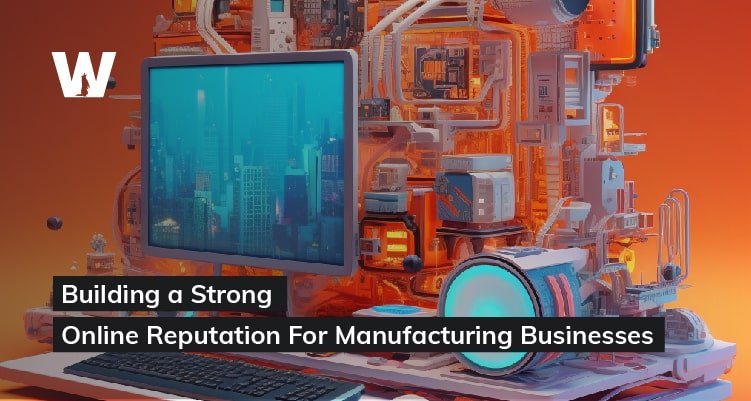 [Note: Full article in newspaper]
Now, answer this!
Where would you really prefer to read this blog from? Here or in the newspaper?
We obviously know the answer. Would not mess up more, but tell us you found some restaurant, agency, classes, or any business via advertising template or brochures.
Did you? No, right?
Then, where do you find all the happenings around you or the businesses you are related with? It's all available online in your palm-sized device-mobile! And the businesses take the great advantage of their online presence today.
If you're reading this and have some questions in your mind regarding the online presence, its perk benefits, or looking for the implementation tips then continue on reading. You'll find more than you are looking for!
Online Presence in Digital Marketing
Online presence has something to do with the activities and content that an entity, person, or business has online under its name. It is how your business is presented online. Online presence is the sum of different content of a business' such as its website, search engines, its media, and other platforms.
For example, you searched for something related to online presence or digital marketing of business, and this blog appeared on your page. This is what we refer to as an online or digital presence.
Elements of Online/Digital Presence
Businesses create their online presence using numerous digital marketing channels and platforms. A strong marketing strategy needs a proper plan and perfect platform for it. To build a strong online profile, businesses take help from these following elements.
Website
Social Media
Email Marketing
Search and Paid Advertising
Content
User Reviews
Google
Importance of Online Presence in 2023
Currently, as of July 2023, 64.6% of the global population are internet users, so we can say that half of the audience for your business is easily available online using different social media platforms for different needs and purposes. Then, there is only one way to reach this huge number of audience by creating a strong existence of your business online.
Businesses have been using trade shows and print ads for so long, but it has never resulted in the way they received from digital marketing. The rise of internet and digital technologies has made businesses work on their digital presence.
Why do Businesses Need Online Presence?
A person spends 10-12 hours online more than he sleeps or spends in surroundings. Every person has different online identities based on their interests, norms, values, hobbies, and work fields. Referring to this, businesses have a number of possibilities to grow and promote their products and services digitally.
In that case, if you think of getting caught up in 'viral' or 'cool' trends as a digital marketing strategy, then you are walking on a wrong path as a business. Online presence and online existence are two different factors - online existence means having a website or profile that only exists whereas online presence means having a strongly-built profile or website using SEO techniques and digital marketing strategies.
Online presence of any business opens its doors to following benefits:
Be seen as a legitimate business
More conversion rates
Marketing from any corner of the world
Makes business more accessible
Can Manufacturing Businesses Present Themselves Online?
The answer is YES!
While every other business makes different digital marketing strategies for their product or services and presents them online, manufacturing businesses are still in dilemma if this online thing is for them or not. But obviously, digital presence is open for all the industries, one just needs to know how to make it.
Moreover, it is important for manufacturers to stay ahead in the competitive market and must have a digital strategy to be followed. Manufacturers can nail the digital marketing world just by finding the right digital marketing strategy for building a strong online presence and to reach the target audience.
Here's how you can start!
How to Present Manufacturing Businesses Online?
The competitive market of 2023 seeks a positive visibility of every business digitally. The digital rules are the same for every business, google algorithms works similarly for all, a strategy might differ but the process will remain the same.
Let's see how you can start with digital marketing for your manufacturing business!
Create a Website that Works to Sell

Stating the fact that, in 2017, 56% of consumers will not consider your business if your business doesn't have a website. Now, you must be clear about the first step you shall take in your online journey - create a modern and attractive website that provides all the information about your business, product, and services.

No matter on how many social platforms your business is active, a consumer will first incline to your website only. And below statistics of most used websites of India and their types will get you to my exact point:

| Types | Percentages |
| --- | --- |
| Search Engines | 98% |
| Online Stores | 66% |
| Social Media Websites & Applications | 66% |
| Company Websites & Applications | 48% |
| News Websites & Applications | 44% |
| Blogs | 32% |
| Newsletters | 25% |

Chances of being left behind in today's marketplace are higher, as it is more likely to get judged by the audience for business credibility at a point when you don't have a good website. You can also hire a team of experts to work for your website.

Reach to Target Audience with Social Media Marketing

Half of the successful B2B marketers use some kind of social media marketing to reach out to the target audience, and the growth has taken place in their business. Initially, you may face challenges in reaching out and engaging, but the consistency will eventually get you in the right place.

Different social media platforms have different users with unique identities, the task is to find the perfect platform for your business and deliver the right-engaging content that the user wants to see. Follow the step-by-step process to start with social media marketing:

Recognize the best suitable platform for your business
Build strong profile in that platform
Create the most engaging content that educates your audience and post
Establish a posting pattern
Track your performance and find out the content to which your audience highly response
Explore other platforms

You can also perform SEO and keywords in your social media platforms as well as websites. That way your business is expected to reach out to a more relevant audience.

Get Visible by Video Marketing

One of the best ways for the visibility of your manufacturing business is through video marketing. Video marketing is a proven technique for manufacturing businesses in digital marketing. Audiences believe in what they see, and taking advantage of it, you can show them how your business runs.

Video marketing includes creating a video content of your manufacturing process, product's functionality, behind the scenes of final productions, work-tour, employee's work experience, past performances of your products or services, and many more. Through video marketing, the potential consumers turn into the real consumers. For more insights, read our blog on Video Marketing for Manufacturing Sector.

Google Business Page

Realize the power of Google Business Page for promoting your manufacturing business. From various leading search engines, a huge number of people turn to Google first. It is not out of your knowledge that we all refer to search engines as "Googling" only.

Creating a google business page allows you to share all the information of your business with access to edit and update the latest as per your convenience. You can edit your business info on searches such as maps, and other google platforms. It makes it easier for your business to build connections with audiences and create a fan base. Also, google business profile is an ongoing advantage for manufacturing industries now, as it helps your customers to trust on the products or services.
Reasons Why Manufacturers Should Build Strong Online Presence
Online presence of your business serves significant benefits as a whole. Here are the enlisted major reasons for your manufacturing business to jump in the digital marketing of your products or services and work after it.
It creates a brand awareness among the audience, and helps your business being found, understood, and considered.
It supports distributors and helps in growing sales.
It earns your business credibility and trust of the audience.
The people around you all are online and searching, an online-presence of business is no more far than the destiny of digital marketing. Trusting the process, and being consistent is the one easy way to grow your business. Team Wolfable is a joint of digital marketing experts, who all work for creating a value of businesses online. From creating a website to social media strategy to earning you trust among the audience - is what we work for. Hire us to make your manufacturing business visible online.